If there is one place in the Philippines that is worth a visit, it would be the province of Southern Cebu– located in the Visayas part of the Philippines and also called the Queen City of the South. This article is about the best of cebu tourist spots and will help you with your travels.
Cebu is a place rich in history and culture. It is a place with a lot of first's which tourists will enjoy especially those who wish to partake in a cultural journey.
If it is an adventure that you seek, then you'll find that Cebu is not short on activities. You will also soon find out why it is a place for adrenaline junkies and serious explorers. In this article, you will find out the exciting activities you can do and the places to visit and where to go in Cebu.
Are you looking for a hotel room in Cebu City?
Why Is Your Next Cebu Tourist Destinations?
Sure, the Philippines has a lot to offer when it comes to top attractions in Cebu, but you'll notice that the province of Cebu is always part of that list.
So, why Cebu? The answers can be broken down to several explanations as to why Cebu is a must-go place, but the main answer would be because of the numerous things you can do in the province.
But the best things that you can do while in Cebu depend on what type of activity you enjoy doing as a tourist. You can either be someone who wants to experience extreme sports which are out of the ordinary or a person looking for cultural enhancement by visiting historic sites, religious sites, museums and heritage of Cebu. Cebu offers the best of both worlds.
What to Do in Cebu City while on Vacation?
As previously mentioned, Cebu offers numerous activities that will suit the interests of different types of tourists. From an adventure-savvy to a cultural scholar, Cebu City street in the Philippines will be a place where everything is always exciting.
---
---
It should be stated up front that this is not the most comprehensive regarding a Cebu tourist guide. What is intended here is to give you a look at one of the most beautiful places you will ever have the opportunity to visit on earth. A place where you will find that offers you a safe and enjoyable place to visit, where you can have peace and solitude, yet see sites and events that will pique the interest of your heart, and make you smile every time you think of your vacation. In essence, I want you to have a guide to Cebu that will show you why you want to come to the region of the world.
Is it Safe to Travel to Cebu Philippines?
Before getting into some of the sites and events that you will want to see, no Cebu tourism guide, or guide to any area on the planet, would be complete without ensuring that your fears or concerns are alleviated from the start. Traveling to a foreign region anywhere on the globe can be concerning, because you may not know anything about the people, the culture, or criminal activity.
This is a place where you can find lots of safety visiting. It is an area that has a strong police force, a population that is friendly and welcoming, and all of the amenities that make you feel right at home.
In many places around the globe, you have to worry about large groups of tourists attracting a criminal element. However, because Cebu and many other areas around the Philippines have not become as popular with cebu tourist spots, you don't see that kind of detail here. This is why it is a fantastic place to visit.
Where is Cebu in the Philippines?
Cebu is located in the Visayas area of the Philippines. It is right in the heart of the island region, meaning that the islands around it offer a protection from strong currents, making it ideal for those who love to swim or spend time in the water. You will also find that potentially dangerous forms of sea life don't usually come to this island, because of where it is situated.
The island covers about 1.8 mi.² and is the ninth largest island in the Philippines. There are about 3.5 million people that lived there, and it is an area that is covered by some of the most beautiful beaches the globe has to offer, and you will also find that fishing is unbelievable here. There is also a large coal mining industry on the island.
There are two seasons in Cebu – a dry and a wet season. The dry season lasts from June to December, with the rains coming from January through May. Typhoons are rare in this area but do happen on occasion. The average temperature is about 97°, with the coolest temperatures occurring between March and May when it reaches about 64° for most of the day.
What are the Islands Near Cebu Philippines?
There are a large number of islands that are directly around Cebu. To the east, you will find Leyte and Bohol, and to the West, there is Negros Occidental and Negros Oriental. Each of these islands offers fantastic sites and natural beauty for you to be able to visit, and some tours leave from Cebu that takes you to these islands to visit each day.
The longer you can stay in the region, the more opportunity you will have to visit these locations. They are indeed spots that offer you a lot of flora and fauna that you have probably not seen anywhere near where you live. This is why so many spend a week or more within the area so that they can take in as much of the beauty of the Philippines as possible.
Also, there are four different bodies of water that surround the island. These include the Visayan Sea, Camotes Sea, the Cebu Strait, and the Tenon Strait. Each of these bodies of water offers fantastic areas to go swimming, as well as an excellent opportunity to catch an abundance of fish. You may find that you want to catch and cook your meals, and this is quite easy to do in any one of these bodies of water.
Where To Go in Cebu Philippines for a Tourist Attraction?
This Cebu City travel guide will help you to find great places to stay, eat, and visit while you are visiting Cebu. For hotels, there are some fantastic places to visit whether you want to be along the beach area or more inland.
A Hotel must be just 30-45 minutes from the airport and provides very comfortable rooms, a buffet that is offered each night for dinner, and a lot of the amenities that you have come to expect when staying in a hotel in the United States. This must have a good Internet connection, a business centre, and an outstanding room that provides a comfortable bed.
When you are checking for a hotel it must have the importance of spacious rooms, and visitors will love the breakfast buffet that is offered each morning. This must be a very quaint looking hotel, which is one of the more stylish on the island. There are not a large number of rooms, which means you can enjoy lots of solitude and peace all staying in the hotel.
One of the great activities that you will want to do while staying in Cebu is to island hop. There are many great locations around Cebu to visit, including Olango Island, Virgin Island, and Bantayan Island. There are cruise ships to go to these islands each day and provide lunch for you when you arrive. During your time there you can lay out on the beach, swim in the waters, feed the fish or birds, surf, kayak, and do a huge number of other activities that you will love and enjoy.
The Kawasan Falls is one place in Cebu that you will surely want to visit. It is one of the most beautiful places that you can imagine going to and allows you the opportunity to camp out overnight there, underneath the falls or near other camping sites around the water. The water is a beautiful blue, more spectacular than you can imagine.
Around the area, there are great restaurants that offer some of the best sweet-and-sour food you have ever tasted. You will also love the different kinds of spices and cuisine that are offered. While there are some traditional foods from other countries that you will find here, such as Italian, American, and French, it is the Filipino cuisine that is spectacular. You will also like the fact that the fish that is offered in their dishes is likely to have been caught that very morning.
To get around in the city, buses cost about $0.30 for you to ride. They traveled to all of the critical areas around the island, meaning that you can see everything and get to any location on your agenda.
Some of the historical structures that you will want to visit include Fort San Pedro, the Cebu Taoist Temple, Plaza Independencia de Cebu, and the Cebu Metropolitan Cathedral. You not only can view incredible religious structures that date back hundreds of years, but other buildings make this trip something that will leave you in awe.
The Itinerary Budget
The great thing is that different tours afford you the opportunity to get to this island, which put you up in a hotel and send you on tours each day that allows you to enjoy the full beauty of the Isle of Cebu.
The Cebu itinerary three days budget started when you arrived at the island, providing you transportation to your hotel. You will then get to witness the sunrise in Oslob, in fact, we have written a very comprehensive guide on Cebu to Oslob that is a must read before beginning an incredible backpacking trip, that includes a boat ride and dinner. All of this for just pennies on what you would pay if you are on a tour and another country. Over your three day excursion, you will see whale sharks, visit the Kawasan Falls, have lunch and dinner at some of the most fantastic restaurants, and visit the Simala Church.
There is also a Cebu itinerary five days budget tour which gives you all of the locations that you would see on the 3-day tour plus additional locations. You will visit all of the historical religious structures, including visiting several Buddhist temples, churches, and other institutions that are unbelievably beautiful. There are visits to other islands around the area, and you will have a fantastic meal at the Lantaw Floating Restaurant. It truly is amazing what you will get to see on either one of these two tours, and is one reason why you will want to make Cebu the destination for your next vacation.
---
5 Activities and Things to do in Cebu(Cebu Tourist Spots):
1. Swim With the Whale Sharks
Swimming with the whale sharks is an activity that you can do in Oslob which is located in the southern part of Cebu. The small municipality facilitates this activity and guides you on how to properly conduct yourself when interacting with these gentle beasts.
Tourists find the encounter with whales overwhelming. After all, you never get to swim with whale sharks every day.
2. Canyoning
This is not for the faint of heart since this activity involves a lot of jumping from high falls which can go as high as 30 feet, rappelling, swimming down rapids, and nature tripping. The canyoning activity can be done in the small municipality of Badian, south of Cebu. This small town is a home to several falls and a picturesque canyon where the activity would take place. The whole tour usually ends in the grand Kawasan Falls where tourists enjoy a cool splash of the falls by going through it on a raft.
3. Sky Diving
A lot of people don't know that sky diving is among the activities that the city of Cebu offers to its adventurous tourists. For sky diving, you have to travel to the northernmost part of Cebu which is the Bantayan Island where the activity is being held. You can experience the breathtaking view of the whole city of Cebu while free falling from a private plane. It is indeed an experience that will last a lifetime.
4. Scuba Diving (Top Travel Destination)
If you have seen Cebu from above, then you would definitely want to see what lies underneath. Scuba diving is among the enjoyable activities that you can do while in Cebu. You need to travel all the way to Malapascua Island, north of Cebu, where numerous diving spots can be found. The island of Malapascua is a very popular diving spot for beginners and experienced divers that one of its diving spots, Monad Shoal, is ranked 11th in the top 101 diving sites in the world by Asian Diver magazines.
The breathtaking view of the underworld of Malapascua Island is enough to make tourists experience something beyond words. There are sites where you can explore sunken ships and planes which are remnants of war, but the most exciting part of scuba diving on the island is the daily sightings of Thresher Sharks which is abundant on the island.
5. Beach Hopping
Another thing is when to visit in Cebu City and a popular Cebu tourist attraction is to boasts about is their magnificent beaches from the north to the south. If you want to experience fine white sand with crystal clear sea, you might want to check the famous Bantayan Island from the north. If you're heading south, Moalboal and Sumilon Islands are among the best tourist spots and attractions as the beaches there are stunning and beyond beauty.
4 Modes of Transportation in Cebu when Seeking Tourist Attractions
There are several ways to get around the entire Cebu. Here are the different modes of transportation that you can use to get to your destination:
1. Bus
Buses in Cebu are only limited. There are only a few buses that travel in Metro Cebu. Most of the buses are in the 2 main terminals. These main terminals are the Cebu North Bus Terminal and the Cebu South Bus Terminal with the route going far north and south. Buses in the terminals are available almost every hour starting from 4 AM. You can check out the daily schedule of the North Bus Terminal and South Bus Terminal.
2. Jeepney
Jeepneys in Cebu are classified into different number and letter codes depicting their route. The codes will allow passengers to distinguish its route easily. Jeepneys in Cebu are also one of the well-organized in the entire Philippines due to its letter and number code assignment.
3. Small Ship/Ferry
A small ship is also known in Cebu as fast craft. It can accommodate a large number of passengers going to and fro the surrounding islands of Cebu such as Bantayan Island, Malapascua Island, Sumilon Island, etc.
4. Car
It is the most convenient mode of transportation in Cebu. You can check out companies that lend cars for a whole day for a certain fee. You'll be able to get around the entire city of Cebu easily and more conveniently.
Top 14 Cebu Tourist Spots and Destinations

Since Cebu is a large province with a lot of must-see tourist spots, the top 5 tourist destinations in Cebu listed here would focus mainly on the places you can visit while in the City. Before fully exploring the entire Cebu area, checking out these 5 tourist spots in the city is recommended.
Not only would these places give you a clear understanding of the history and culture of Cebu, but would also give you a glimpse of why Cebu is a place worth visiting.
1. Magellan's Cross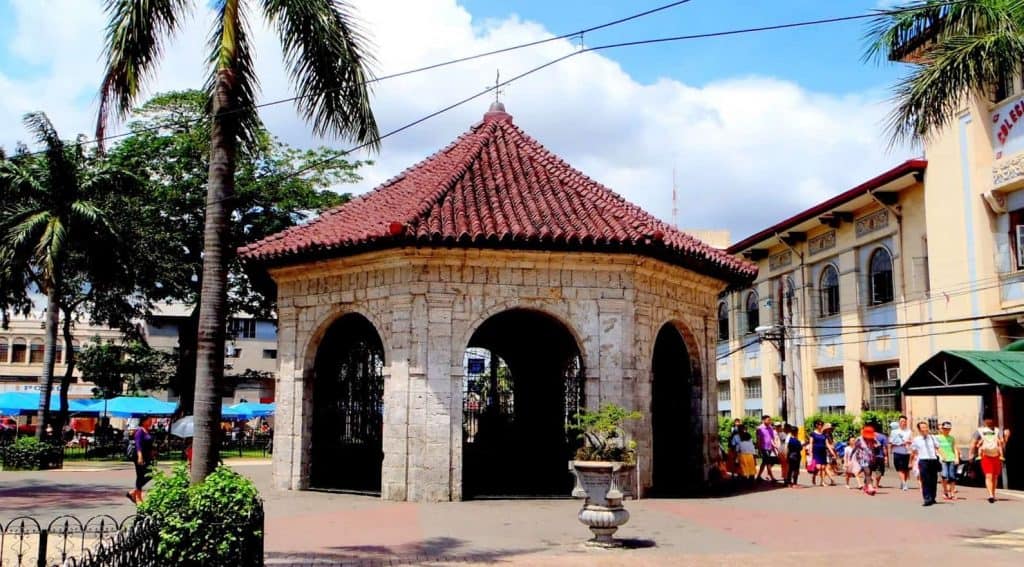 Every time you see a postcard with a Magellan's Cross on it, the first thing that will pop into year head is Metro Cebu or the famous colon street one of the most popular Cebu tourist spots.
The Magellan's Cross, A religious sites which is housed inside a dome, is the most popular tourist destination in the city as it depicts the history of Cebu as being one of the earliest civilizations converted into Catholic religion in the entire Philippines.
It is located in the heart of Cebu where it stands across the Cebu City Hall, the seat of power in the entire province of Cebu.
According to history, the Magellan's Cross is the same cross that Ferdinand Magellan, a Portuguese explorer, and conquistador, brought and ordered to be planted on the soil of Cebu to symbolize Christianity of the people.
The original cross is said to be placed inside the tindalo wood to prevent further deterioration as people are chipping it off because they believe shards of the cross have healing powers or can be used as lucky charms.
Legends say that the Magellan's Cross before is not as big as it is today. Locals believed that the cross is growing in size. Some say the cross grows every time the people are doing good deeds and praying regularly.
Though the majority of the Cebuanos believe in the miraculous power of the cross, some contradict it saying that the cross planted there is not the same cross Magellan brought and planted before. They believed that after the death of Magellan, the original cross was destroyed, and the cross planted there today is just a replica of the original.
It was said that the priests who visited Cebu are the ones who replicate it to commemorate the original cross.
Whatever the legends say, the Magellan's Cross still remains one of the iconic symbols and will forever remain the most popular tourist spot in Cebu. The best time to visit the Magellan's Cross is any time of the year. Just be careful and wary of the maintenance time as it is usually close to the public.
If you wish to visit the Magellan's Cross, you can simply ride a cab or any jeepney that has a route going to downtown Cebu. It is not hard to locate the cross as it is located near another popular tourist attractions in Cebu Philippines which is the Santo Niño church.
Pros of Visiting the Magellan's Cross
If you're a pious person, seeing the cross personally can give you the opportunity to offer a prayer.
The picturesque beauty of the cross is picture-worthy.
Visiting the cross is perfect for cultural enhancement.
A better understanding of the history of Christianity of the Filipinos.
Entrance fee is free.
Cons:
It's hard to know what quarter of the year the people who manage the Magellan's Cross usually close the cross for regular maintenance. So some tourists often get disappointed when they go for a visit to the cross only to find it close for maintenance of renovation.
The surrounding of the dome where the Magellan's Cross is enclosed is usually crowded with people going about their personal business, so it's hard to spend a quiet time with the cross.
Due to a lot of people passing by the dome, it's hard to maintain a clean surrounding for the dome.
The dome is the only thing that is vandal-free perhaps due to regular maintenance, but the surrounding area is covered with graffiti and litters from people passing by.
You can't pray quietly as people keep asking you to buy souvenirs from them or keep offering you with different goods. Some are even offering to pray for you by dancing while holding a lit candle.
Pickpockets and snatchers also frequented the area, so extreme caution is advised.
2. Basilica del Santo Niño de Cebu (Top Travel Spots)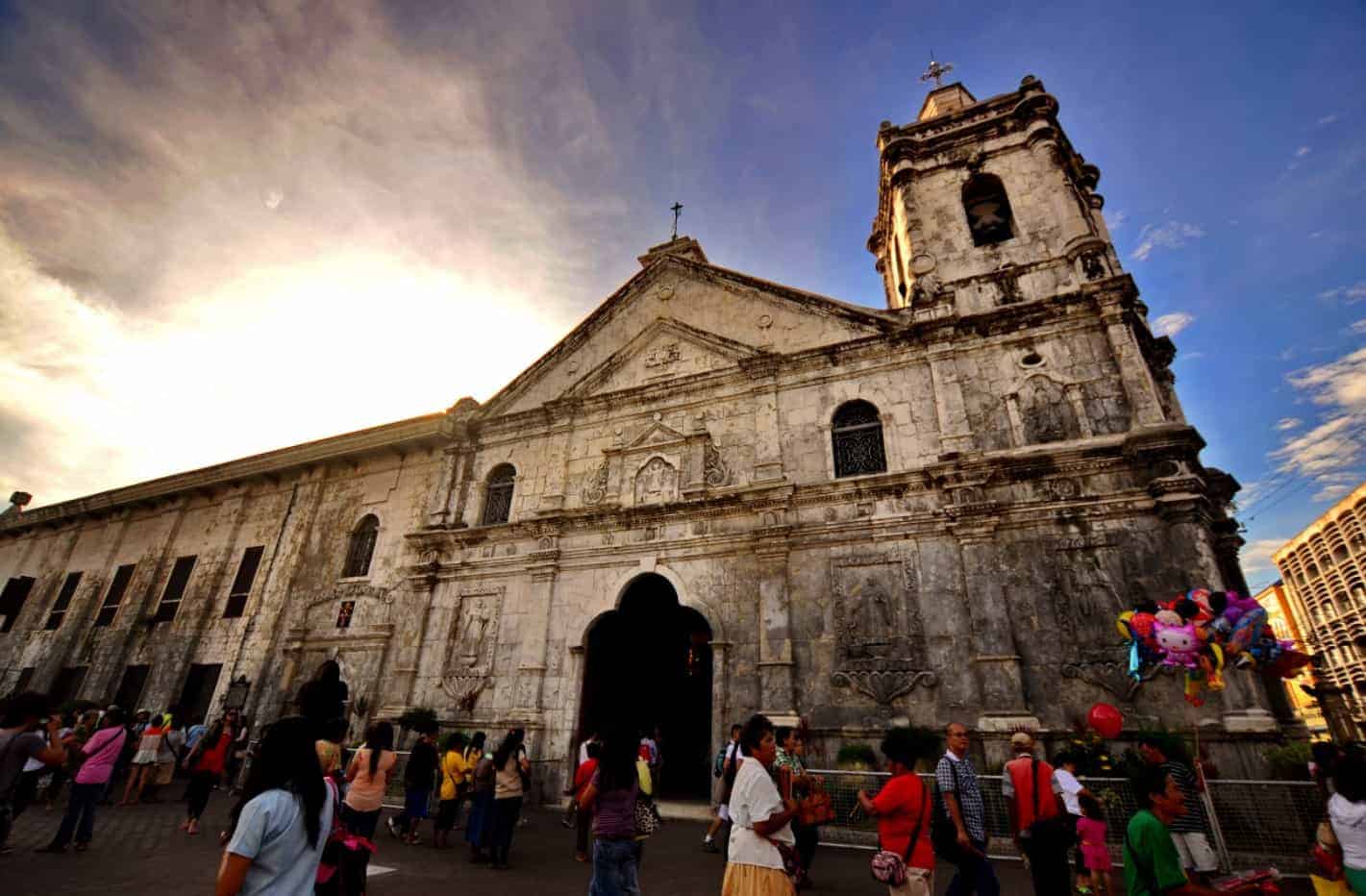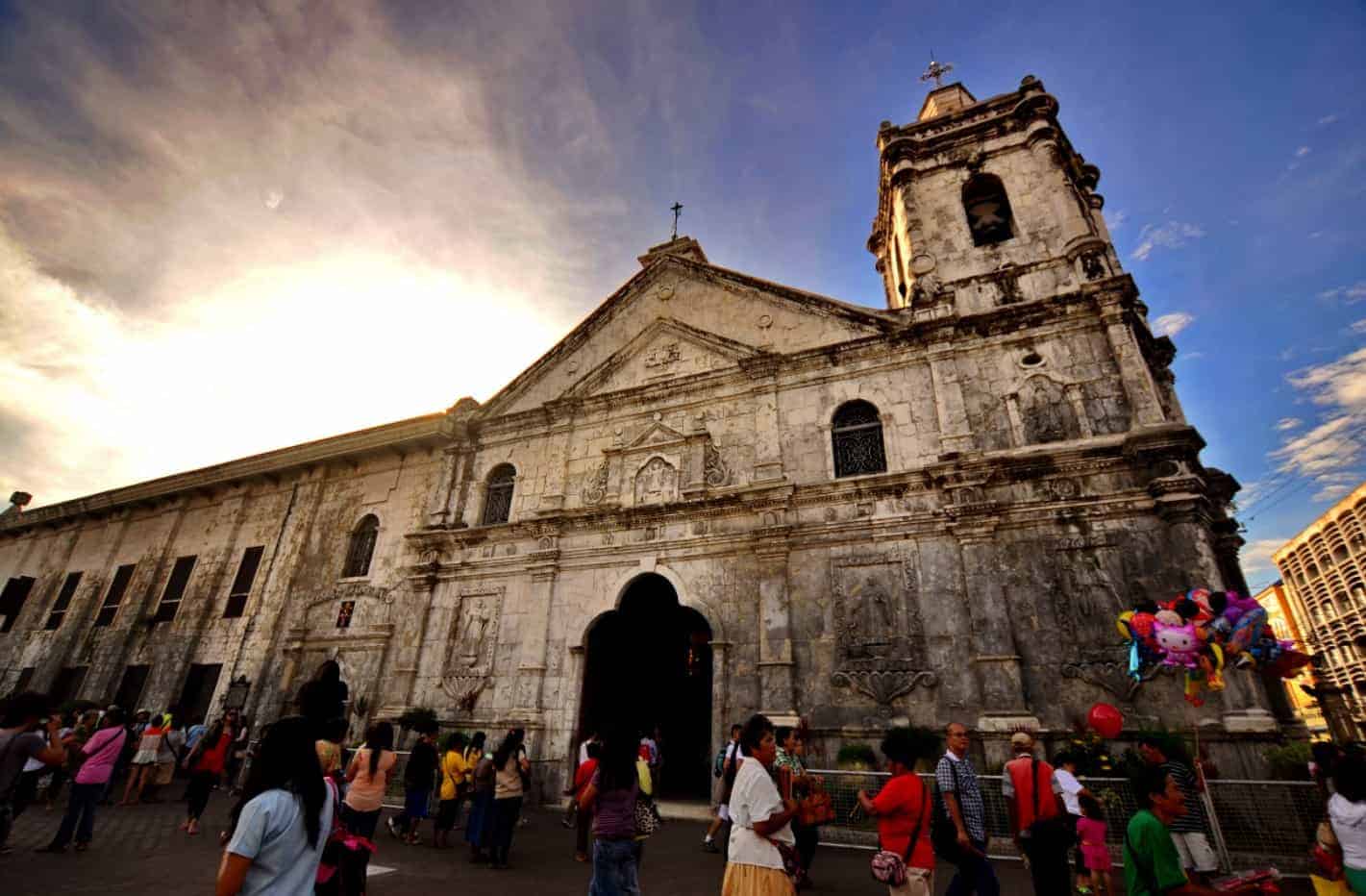 Whether you're a Catholic or not, a believer or non-believer, you wouldn't let the Basilica del Santo Niño de Cebu be not part of your list of city tours to visit in Cebu City. The Basilica del Santo Niño or also known as the Santo Niño Basilica is a minor basilica which is home to the miraculous image of Santo Niño or Child Jesus Christ.
It is also considered as the oldest Roman Catholic churches in the Philippines as it was founded by a priest named, Andres de Urdaneta in 1565, right after introducing Christianity in the country.
The basilica is referred to by Pope Paul VI as the symbol of Christianity in the Philippines as this was the very first church built in honor of the religion. The location of the church is also significant as it is the place where the image of the statue of Child Jesus Christ was found.
According to history, Ferdinand Magellan was the one who brought the image which he intended to give as gifts to the newly converted ruler of Cebu, Rajah Humabon and his wife on their christening.
Forty years later, a soldier found the same image enclosed in a wooden box and perfectly preserved. He gave it to Miguel Lopez de Legazpi who decided to temporarily keep and later on give it to a priest. Because of the miracles the iconic statue of the Child Jesus did while still in the care of the priest, they've decided to create a permanent home for it by building a church where it was found.
According to the locals, every time the feast of the Santo Niño draws near, or also known as the Sinulog Festival which is held every third Sunday of January, the statue of Santo Niño will disguise a young boy and roam around the city and help people in need.
The caretaker of the statue would swear that sometimes, they would notice that the feet of the statue are covered with mud. They will find it odd as the image is enclosed in a glass box.
But the most famous story is about a young woman who is selling fish for a living. She said that one day a young boy approached her and asked for a fish. She said that the boy doesn't have money, so she just gave the fish to him for free. The next day, the statue of Santo Niño is seen inside his glass box holding the same fish the boy asked from the fish vendor.
These mysteries that surround the iconic image of the Child Jesus Christ are enough to draw tourists everywhere to the basilica to experience the holiness of the place and see for themselves if, in fact, the legends were true.
The most perfect time to visit the basilica is during the Sinulog Festival as a lot of participants, dressed in colorful costumes and dance to the beat of the Santo Niño song, from different parts of Cebu come to gather and perform in front of the church. If you want to check out the basilica of Santo Niño, you can grab a car or hail a taxi. You can also ride a jeepney as most jeepneys' route involves downtown Cebu, where the basilica is located.
Pros of Visiting the Basilica:
A perfect way to experience the Catholic religion.
Being inside the grand basilica makes you feel like you're back in time as the interior of the church is covered with rich historical artefacts.
There are several signage and brief historical explanation in every corner of the church for you to truly understand the magical history of the place.
No entrance fee.
Cons:
The basilica is always crowded at any time of the day, so you can't really pray peacefully.
If you want to attend the mass, you might have trouble understanding it as mostly the mass is celebrated in Bisaya, the Cebuanos main language.
The area surrounding the church is frequented by snatchers or thieves, so you have to take extra precautionary measures with your important things.
A lot of vendors surround the church, so the basilica became somehow like a commercial place for any goods
3. The Cebu Taoist Temple
Another must-check destinations in cebu is the Taoist Temple which is located in the posh subdivision of Beverly Hills in Lahug, Cebu. It is situated at 300 meters above the sea level, so expect a grand view of the city of Cebu in the viewing deck. This tourist spot is recommended for people who like to experience the Taoism religion as the temple is home to various artifacts related to the religion.
An exciting trivia about the Taoist Temple is it was constructed by the Chinese community of Cebu(history of cebu) in 1972 to serve as a symbol of their religion and a place where they can invite people to spread the teachings of the ancient Chinese philosopher, Lao Zi, where the religion was based from.
In the temple, you can experience activities and watch Chinese worshippers do a traditional way of praying which is interesting to see. You can even do the rituals yourself even if you're a non-worshipper. Some activities derived from the religion that you can do are climbing 81 steps to get to the main dome at the topmost portion of the temple to pray by lighting a joss stick.
The Taoist Temple is also a place where you can make a wish and do a ritual to check if that wish will come true. All you need to do is walk inside the temple barefooted, wash your hands, and pray. While praying, you can insert your personal wish. After that, you will get 2 wooden blocks, and drop it. If both faces land up, then your wish will come true; if both faces are down, then it means no; and if the other is facing up while the other is down, it means unsure.
If you're into fortune telling and palm reading, then the Taoist Temple is the best place to visit. Monks in the temple usually entertain you with some fortune reading, but they only do it every Wednesday and Sunday. Although the temple is open to the public with no entrance fee, proper decorum must be observed at all times. The temple is very strict, and they implement their rules with an iron fist. Since this is a temple, silence is expected from everyone to avoid disturbing people who are praying.
You must also check out for signs to check which parts of the temple are open to everyone and which parts are restricted, as ignoring these signs can get you in trouble Guards would give you a fitting scolding while the monks throw you embarrassing glances.
To get to the temple, you can ride a cab or a jeep going to Lahug. The best time to visit the temple is in the afternoon between 3–4 PM to avoid extreme heat from the sun. The temple is open between 9 AM and 5 PM every day, except for some temple occasions.
Pros of Visiting the Cebu Taoist Temple:
Cultural enhancement for the Taoism religion.
You get to experience rituals and traditions of Taoism.
See the grand view of the city of Cebu from the viewing deck.
You can witness the wonderful architecture of the temple, with the entrance replicating the Great Wall of China.
The environment is solemn, so you can meditate and pray well without being disturbed.
Cons:
The temple is not easily accessible as it is located inside a guarded subdivision, and it's a bit far from the main entrance. Riding a cab is the only recommended way to get there.
Tip: From the main entrance, there are "habal-habals", a motorcycle that can take you inside the temple for a price.
The temple has no website, so you can't actually check when it would be closed to the public.
4. The Temple of Leah (Most Suggested Place for Travel Tips Ideas)
The Temple of Leah is the newest edifice that was able to make it to the list of the best tourist spots in Cebu. This Cebu City tourist spot is a living proof that a place need not be ancient-old to be worth a visit. The Temple of Leah was built in 2012 in honor of the wife of Teodorico Soriano Adarna, the owner of the temple who personally financed privately the whole construction. His late wife, Leah Villa Adarna died on 2010, and to commemorate her life, he built a large temple as a symbol of his undying love and devotion to his wife.
The Temple of Leah is being compared to the magnificent Taj Mahal of India, where the idea of the temple came from. The Taj Mahal was originally built by the emperor as a resting place for his favorite wife. When you get inside the temple, you will notice the grandiosity of the place. Everything is well-placed, and the interiors were copied from the architecture of the ancient Greece and Rome.
The designs of the temple, from the façade to the exteriors, are magnificent. The statues found inside are derived from the statue of David and other popular Greek busts and images such as the gigantic lions and the sphinx. The temple consists of 24 chambers which include a museum, a library, and an art gallery.
Since the temple is dedicated to the grand Adarna matriarch, all of her personal favorite things are displayed in all the chambers. But the most noticeable of all the statues is the 9-feet-tall bronze statue of the late Leah Adarna. It is placed in the center of the temple, adorned with angel paintings behind it. The statue is sitting on a bronze chair which makes it look like a queen reigning over.
The temple of Leah is located in Barangay Busay. If you want to get there, you can head to IT park in Lahug where shuttle services are available to and fro the temple. It can easily be accessed by cabs as well. The best time to go to the temple is between 4 PM and 6 PM to avoid the extreme heat of the sun in noon time and to see the sun set in the city of Cebu. It is open 24 hours every day, and the entrance fee is P50.
Pros of Visiting the Temple of Leah:
If you want to experience Greek and Roman architecture in the city of Cebu, you'll not get disappointed as it has a strong ringing for the European architecture.
It is rich in historical learning as there is some brief history of other things aside from the Adarna family.
The cool weather of Busay makes the temple easy to explore as it is not warm any time of the day.
The temple not only boasts the glorious architecture but also the fresh air due to a lot of trees that surround the area.
The temple is near the other must-check Cebu tourist spot, Tops Lookout, where you can see the entirety of Cebu.
Cons:
Not easily accessible, and cab and shuttle services are the only recommended transportation.
The temple is not yet 100% complete. Some areas are still under construction, and there are areas that lack color probably due to the unfinished construction.
Read more about Temple of Leah..
5. Mactan Island (Most Popular Places for Travel Guide)
Mactan is a separate island of Cebu and very well-known for its numerous beaches and resorts. It is approximately 30-minute to 1-hour, depending on traffic, drive from the main city of Cebu. The island of Mactan is the place where Ferdinand Magellan first landed, and it was then ruled by Lapu-Lapu, who refused to bend his knee to the King of Spain. This didn't stop Magellan to colonize the other part of Cebu, though.
It was also on this island where the epic battle between Datu Lapu-Lapu and Ferdinand Magellan took place where the latter lost and died. Mactan has a lot of popular beach resorts and tourist attractions to boast. Most of the first-class beach resorts and hotels are found in Mactan including the Shangri-La Hotel and the Plantation Bay Resort.
The beaches in Mactan are popular due to the diverse collection of corals that can be found on the beaches. Because of this, numerous activities are available such as scuba diving, island hopping(Best tourist attractions in cebu), and cultural activities. Aside from the different activities, Mactan Island also offers high-class tourism products such as the famous ukulele, a small guitar, and high-quality furniture. So if you want to experience the amazing beach resorts of Cebu and high-quality products that you can buy at such low prices, visiting the island of Mactan is highly recommended.
The best time to visit Mactan is during the summer between March and May when the beach is beautiful and the sky is clear. There are several ways to get to Mactan, but the most convenient is through a car or taxi.
Pros of Visiting the Mactan Island
You'll get to experience the beautiful beaches of Cebu.
You can buy export-quality products at affordable prices.
The island of Mactan is also rich in historical landmarks that offer cultural enhancement.
Cons:
The mode of transportation in Mactan Island is different and more complicated than in Cebu City. There is limited jeepney's route, so taxis are the main way to get around the island.
Most of the beaches on the island with decent accommodation are expensive.
This #6 to 14 is from (https://trip101.com/article/best-things-to-do-in-cebu-top-10-cultural-sites-to-visit) which gives a very great insights and places about cebu culture and places)
6. Basilica Minore del Santo Niño de Cebu
Absolutely a not-to-be-missed cultural landmark in Cebu, Basilica del Santo Niño is not just the country's oldest church but it bears the history and tradition of the Catholic faith in the Philippines. Tracing its history back to Ferdinand Magellan's time, it has endured three fires and the 2013 earthquake that collapsed its belfry. Santo Niño Church as locals prefer to call it, serves as the sanctuary of the Santo Niño that Magellan himself brought.
Today, it is a mix of pilgrims and tourists. Admire its architecture but most of all, observe the Christian tradition and deep Catholic faith of the locals.
Basilica del Santo Niño

Address: Osmeña Boulevard, corner P. Burgos Street Cebu City

Price: free

Opening Hours: Open daily. Monday – Thursday & Saturday: closes at 7pm, Friday: closes at 9pm, Sunday: closes at 8:30pm

Contact: +63 032 255 6698

Near by Food: Cebu La Fortuna Bakery

Website: Basilica Minore del Santo Niño de Cebu
See our full list of recommended hotels in Cebu Island and also compare the prices with HomeAway & VRBO vacation rentals in Cebu Island
7. Magellan's Cross
The site of the cross that the Spaniards planted upon their arrival is enshrined at Magellan's Cross, just outside the Basilica del Santo Nino. To prevent people who believe the cross holds supernatural powers from stealing a piece – the cross is encased in timber wood known as
"tindalo". Some might say there is nothing much to see here, but Magellan's Cross is a major historical piece, symbolizing the beginning of European conquest in the archipelago that changed the country's history and what it is today.
8. Fort San Pedro
From Magellan's Cross, walk for 5 minutes towards Fort San Pedro, a military defense fortification built by Miguel Lopez de Legazpi, the Spanish explorer who successfully established a Spanish colony in the Philippines, almost 45 years after Magellan set foot in Cebu. Though the smallest, Fort San Pedro is the oldest fort in the country. Today, the fort is a popular attraction in the city.
A peaceful walled space in the city center, walk around its walls and see views of the Plaza Independencia and the port. Visit its museum or spot the coral stone bricks as well as cannons. Kid-friendly, Fort San Pedro has space and history for families to enjoy.
Fort San Pedro

Address: A. Pigafetta Street Cebu City

Price: less than 1 USD

Opening Hours: 7am – 7pm

Contact: +63 32 256 2284
9. Colon Street
This busy street in Cebu with its decades-old buildings mirrors one big market where locals shop for goods at bargain prices.
But did you know this is not just Cebu's oldest street? With Cebu as the oldest city in the Philippines, Colon Street is the country's oldest street a great cebu tourist spot and it has up to this present, remained a thriving commercial area.
You can walk along the street and get a real feel of local trade or, if you find the bustling activity too overwhelming, take a cab and watch as the activity unfolds around you. For returning locals, Colon brings nostalgia while adventurous tourists love the kind of Cebu they see on this busy street. Needless to say, Colon Street is one historical street that needs further attention.
10. Yap-Sandiego Ancestral House
With much of Cebu heavily destroyed during the Second World War, some older buildings remain. One of them is Yap-Sandiego Ancestral House located in Parian District, a Chinese enclave in Cebu. The house was built way back in the 17th century, making it the oldest residential house in the Philippines. Like most structures in Cebu, it is made of coral stone and Tisa (clay tile) roof. Highly durable hardwood like molave was also used. Visit the living quarters and dining room to see how people used to live and check out some of the house's interior pieces – some as old as the house itself – from religious items to their dinnerware.
Yap-Sandiego Ancestral House

Address: Lopez Jaena corner Mabini St. Parian, Cebu City

Price: from 1.25 USD

Opening Hours: 9am – 7pm

Duration: around 45 minutes to 1 hour

Contact: +63 32 514 3002

Website: Yap-Sandiego Ancestral House
11. Casa Gorordo Museum
Those who want to drop by Cebu's museums should not skip Casa Gorordo, an ancestral home, turned museum. Built in 1850, Casa Gorordo is newly renovated, complete with an interactive multifaceted museum, with tablets for guests and a museum café. The house was built by Alejandro Reynes and later bought by Juan Isidro Gorordo. It is unique as it has a chapel inside – one of its owners, Juan Bautista Gorordo, was Cebu's first bishop. The lower ground is where visitors can experience an interactive museum tour while learning about Cebu's history and heritage.
Tour around the house and imagine life among the local elite. Guests can check out Bishop Gorordo's study, with an authentic copy of Noli Me Tangere, an anti-clergy novel written by Jose Rizal that helped ignite the Philippine Revolution against Spain.
Casa Gorordo Museum

Address: Eduardo Aboitiz Street ( formerly Lopez Jaena Street), Cebu City

Price: from 2 USD (20% discount for senior citizens, high school and college students)

Opening Hours: 9am – 5pm. Closed on Mondays

Contact: +63 32 411 1767

Near by Food: Museum has its own cafe

Website: Casa Gorordo Museum
12. Mactan Shrine
A must-do when on Mactan Island is Mactan Shrine, one of the first tourist attractions on the island. Mactan Shrine is built in honor of the Battle of Mactan and the two opposing leaders – Lapu Lapu and Ferdinand Magellan. Visitors will see a mural depicting the battle in 1521 that lead to the death of Magellan, and a pivotal point in history proving that Cebuanos never kneel down before a foreigner without a bloody fight.
Magellan's body was never recovered and a Magellan monument was built with an obelisk inscribed with "Gloria Espanola". The highlight of the shrine is the 20 meter (65.6 foot) sinewy statue of the local ruler, Lapu Lapu (the city is named in his honor), who is also hailed as the first hero of the Philippines.
13. Heritage city of Carcar

The city of Carcar in southern Cebu is not just the "Shoe Capital of Cebu". It is also more than just chicharon (fried pork rinds) and lechon. Carcar, unlike other cities of Cebu, has the highest number of well-preserved structures and is therefore also known as Heritage City. Take a walking tour around the city starting at the plaza or town square and its parish church, St. Catherine of Alexandria, with its Moorish-influenced domes. The church convent is also one of the oldest in Cebu.
Some of the city's other heritage buildings include the Upland Elementary School (1905) and one of the buildings of St. Catherine 's College (1921). The city museum used to be a women and children hospital and is a dainty structure with its latticework and curved railings. Don't miss Carcar's heritage homes, some dating back to 1859.
14. Boljoon Church
Southern Cebu constantly summons travelers with its pristine beaches, breathtaking peaks and whale sharks. However, this church's charm makes it hard not to stop for a quick look. Boljoon Church complex is a historical treasure, not just for its tenure but the role it played. This sea-facing church is a fortress against the Moro slave raiders with a blockhouse watchtower built complete with artillery.
The convent now serves as a museum. Beside the church is a school with dates back to 1940 while on the other side is the ruins of an 18-century cemetery. Archeological excavation on the grounds unearthed a burial site, complete with burial jars, necklaces, and other objects. The church with its triangular pediment and bas-relief, as well as its ceiling paintings, is equally remarkable.
Cradle of Philippine culture
These cultural sites and heritage places are some of the things Cebuanos are truly proud of, patronized by local tourists and now by international visitors who wish to get to know Cebu deeper, through its past. Cebu has kept its culture and heritage all these years and it has successfully intertwined with modernity.
More than beautiful structures, it is here where Cebu's heritage is eternally sealed. Thus, visiting various cultural attractions in a city so rich in history will always be a highlight, when in Cebu.
Are you looking for a hotel room in Cebu City?
---
Top 21 Tips from Experienced Travelers on Cebu Tourist Spots:
#1 Tips From Bruno B (Barcelona)
Site: Geek Explorer
My favorite place was the Lapu-Lapu area. Great for shopping, leisure and it has some amazing white-sand beaches very close to the city.

The Jumarflon Butterfly Sanctuary is definitely worth a visit. Also did you know the oldest Catholic Church in the world – Basilica del Santo Nino – is located in Cebu City?!
---
#2 Tips From Andrea
Site: Malapascua Diving
Thresher sharks in Malapascua
---
#3 Tips From Bea (Rizal)
Site: Wander B
SENDING SOME PRAYERS FROM SIMALA CHURCH
---
#4 Tips From Quinn Bajenting-Pantinople
Site:Quaint Quinn
You can hop on her journey as she tries out new spots in the metro and spends time in the city outskirts to enjoy raw nature.
---
#5 Tips From Klook
Site: Klook
1. What are the best places in cebu city?
– Cebu is known for its good food so the best places to visit really are the wide range of restaurants and cafes around the city. Try our Cafe Verde for delicious vegetarian options or the famous Rico's Lechon Restaurant — Cebu is well-known for good lechon!
– Cebu city has a lot of beautiful churches and cathedrals that have so much history. Some of the most famous ones are the Basilica Minore Del Sto. Nino, Cebu Metropolitan Cathedral, and St. Chatherine Alexandria Parish
What are some Cebu tourist spots that you think should be known for?
– Oslob whale shark experience
– Badian canyoneering
– Sea turtle watching in Pescador Island
– Kawasan Falls
– Island hopping experience to the islands of Sumilon, Malapascua, Camotes
– Get out of the city and experience island life in Bantayan Island
– Skydiving in Bantayan
What are the things to do in cebu city during your vacation or free time?
– Cebu has a lot of excellent beach resorts luxury resorts so a lot of people opt to go on "staycations" whenever they have a free time.
– Drive up to the mountains and enjoy a panoramic view of Cebu City
– Visit the 10k roses
---
#6 Tips From Junee Aguelo
Site:(https://cebutraveljunkie.wordpress.com/)
I've been blogging for five years now and a lot of people have asked me about this; what's the best place to visit in Cebu City? When asked about this, my mind will quickly flash scenes from my South Cebu trips, which features some of the most pristine beaches in Cebu, special mentions would be Sumilon Island, swimming with a school of sardines in Badian, Bantayan Island.
However, if we are talking about the best places in the city, these are probably my top 5 picks and for various reasons.
On top of my list are Fort San Pedro and Magellan's Cross both at number 1 because for me, it's always best to know the history of the place first before exploring its outskirts.
Second, Tops Lookout, which is located in the mountain barangay of Busay; allows you to view the city from atop and it gets even nicer at night with the city lights on.
Third, Temple of Leah; built in a Roman-style temple and a symbol of an undying love from a man to his beloved wife. It's Cebu's very own Taj Mahal which was also built with the same purpose.
Fourth, La Vie Parisienne and The Pyramid; both are inspired by French culture. It's no secret that Cebuanos are avid drinkers and amongst the many bars in the city, these are the places that I love to chill out every Friday nights. Lastly, Jumalon Butterfly Garden, haven't heard of it? Mostly because millennials nowadays prefer to hang out at the beach or at various bars.
Jumalon Butterfly Garden is the most beautiful butterfly garden I've been to back in my childhood days when I was on my first educational tour and I remember lots of different butterflies fluttering in the air and they also provide seminar and/or orientation for butterfly art, which is sadly slowly dying. Whenever I'm on vacation, I sometimes go to the beach, mostly south of Cebu because there are a lot of white sand beaches and is also rich in marine life, oftentimes I check out cafes or newly opened restaurants, specifically seafood restaurants. If you happen to want to grab a bite of unlimited shrimps, with different flavors to choose from, you could always check out Roadside Seafood Haus.
---
#7 Tips from Winky
Site:timeswithkai
Fuente Osmena – This place comes alive at night with all the street lights and lights from cars on the road. Visit Fuente Osmena for Christmas and Sinulog and you'll enjoy everything – from food, activities, entertainment, and awesome people!
For a fun mall and shopping experience, visit SM Seaside. Not only is it a huge and spacious mall but it is also great for kids since they have a waterpark and playground on their roof deck that's open to the public.
And of course, you shouldn't miss great food in Cebu – specifically the barbecue. Yakski Barbecue (with branches in Capitol, IT Park, and Lapu-Lapu) deserves a shoutout. Also, if you're around Lapu-Lapu City, you should head to Nova's barbecue, near Mactan Benito Airbase. More people should know about this place.
Bantayan is already a known Cebu tourist spot and I can't stress enough just how much we love this island for the gorgeous white sand beaches.The island also offers extreme activities like skydiving.
Other tourist spots include:
– Camotes Island, where you can visit and swim in the caves
– Malapascua for diving
– Osmena Peak for hiking and trekking
– Transcentral Highway -stop by the area where you can eat freshly cooked sweet corn (you won't miss it)
– Co Jordan Bangus and Talaba for fresh seafood
Love the Food in Cebu!
– eat local food like barbecue (it's obvious I love BBQ)
– book in one of the many top hotels in Lapu-Lapu City
– don't miss out the lechon – Remember the names CnT and Alejo's.
– visit CoJordan Bangus and Talaba Eatery if you fancy oysters, more oysters, and fresh seafood.
---
#8 Tips From Rodel Flordeliz
Site: nognoginthecity
If you enjoy wake-boarding you can visit and enjoy an afternoon at Papa Kits, in Lilon
If you like a combination of Parisian ambiance, good food, and drink, Check out La Vie Parisienne in Cebu City 9
There are a lot of hidden gems you will find in Cebu especially if you would stay for a longer time. I haven't tried exploring the mountain area but I heard there were a lot of untouched falls that are even beautiful than the popular ones.
Do not miss to visit Bantayan Island, Oslob and Sumilon Island.
What are the things to do in Cebu city during your vacation or free time?
Check out the newly opened The Pyramid in Lahug or 10k roses for some good photos.
---
#9 Tips from Kara Santos
Site:Travel Up
Cebu was recently voted as one of the top islands in the world in a Conde Nast Reader's Choice survey.
Just a couple of hours from the city, you can access stunning dive sites and beach resorts like Bluewater, swim with the sardines in Moalboal, trek to waterfalls like Kawasan Falls, hike up Osmena Peak, and visit many beautiful natural attractions.
---
#10 Tips From Faith Mari Baquirquir
Site:sojournsandstories
There are plenty of things to do around Cebu City as a traveler or tourist. If you love nature, head over to Terrazas de Flores in Busay, the famous flower farms in Sirao, or Buwakan ni Alejandra in Balamban. If you want to feel like you're in another country, you can visit Temple of Leah or Taoist Temple.
On the other hand, if you want to get to know more about Cebu and its history, a visit to Fort San Pedro is a must. Previously serving as a military defense structure, it had been turned into a museum where tourists, as well as Cebuanos, can learn about the important historical events that shaped Cebu into what it is today.
If you're a foodie, the best place to hang out in Cebu City is Sugbo Mercado. With a wide variety of options, you're sure to satisfy your cravings.
When you visit Cebu, you get the best of both worlds. You'll have both the city and provincial experience. In Cebu, you have easy access to malls, restaurants, food markets, and various establishments, but the mountains and beaches aren't that far away either.
---
#11 From Frank Becker
Site:missionhopecebu
Friendliest city in the World. Get to know the people. You will be welcome like a family. Visit the Malls, SM and Ayala. Go to the Market in Lapu Lapu. Spend the day at Plantation Bay Resort in Mactan. Volunteer with an organization that feeds poor children, it will change your life.
Plantation Bay Resort Day Pass. Dinner at Lantaw Restaurant near tops lookout on the mountain side. Lantaw Floating Restaurant in Cordova. SM Seaside and Ayala Malls. Radisson Blu Hotel music in the lobby. Day trip to Oslob whale viewing. Lapu Lapu Market. Go to Church at CCF Cebu Mandaue.
I have traveled to Cebu City for 5 years and never had any safety problems. People of Cebu have welcomed me like family. It's the friendliest City in the World.
#12 Tips From JM Kayne (Julie Mae B. Chavez)
Site:iamjmkayne
Cebu city has so much to offer! It's strategic location to be in the middle of the Philippines highlights its beautiful beaches, rich history and a nature worth spending the time on. In this city, don't be just a tourist, be a traveler; try new things such as the local delicacies, an adventure trip chasing waterfalls in the south or simply chill out in the white sand beaches in the north.
Meet new people – engage and make new friends; Cebuanos are known to be friendly and of course, look beyond what's in front of you – dig deeper and learn the story of the historical places you visit. Trivia: Cebu has the oldest street in the Philippines. Do you know where it is? That's on Colon Street! To answer this question on what to do in Cebu City, I'd love to recommend my blog post about 10 must-visit places in Cebu esp.
Personally, my Top 5 best places in Cebu City are:
1. Sto. Nino Church – it's the cradle of our faith, its where Filipinos or Cebuanos of all walks of life gather professing our love and faith to the infant Jesus. It offers history + religion and culture all in one.
2. Mactan Shrine – Where you'd find Lapu-Lapu – the Cebuano hero known to have defeated Magellan in 1521.
3. Larsian -a must visit when in Cebu, this Barbeque haven is an alternative option to all the high-end/mall restaurants you see sprouting everywhere.
4. Tops Lookout and/or Mountain View – This is a great overview of the city especially during the night when you see the whole city lights, great place for dating too!
5. Canyoneering in Badian – Its not really in Cebu City but its in the southern part of Cebu but I highly recommend it to adventure junkies who love nature and water!
Well, that's only 5 but Cebu has so much to offer. Magellan's Cross, Taoist temple, Swimming with the whale sharks, diving in Moalboal or in Malapascua island.There's Osmeña Peak, Little Amsterdam at Sirao Flower Farm, how about Taj Mahal of Cebu in Temple of Leah or feel like you're in Paris in the Pyramid! The list goes on!
CEBU is worth it! Cebu city itself has hundreds of places to offer to be on your next travel destination. You could mix beaches, nature, history, religion, food, adventure, festivities and more in this very place! Home to the best tasting lechon (pig) quoting Anthony Bourdain, you could also enjoy the array of the street foods you surely don't wanna miss. Not only that Cebu has consistently been named as one of the top 10 best islands in the world, but Cebu is fun, awesome, and a convergence of historical and modern age. Nonetheless, Cebu is never Cebu without the beautiful and amazing people who make your stay worthwhile!
---
#13 Tips From Rochkirstin Santos-Sioco
Site: https://rochkirstin.com/
The best thing to do in Cebu is to go on a food trip and if you can, try out all the best restaurants selling lechon like Rico's Lechon, Zubuchon, and CnT Lechon.
Cebu is a mix of both history and modernity.
You can drive to Mactan Shrine, Fort San Pedro, Basilica Minore Del Sto. Niño, and Magellan's Cross to learn about its rich past and then visit the malls for a different kind of pleasure.
Cebu is a large city with kind people, delicious food, and awesome tourist spots.
Its clean and pristine beaches are also worth to go for. If you're a beach person, this is definitely up on your travel bucket list.
---
#14 Tips From Matthew
Site: https://www.cebu-tour-guide.com
Cebu City offers a verity of destinations from a lazy day sipping a cold drink at the beach to a more wile time parasailing over the ocean and a little of everything in between. As a tour guide we have found many of our past customers enjoyed the breathtaking experience of swimming with the whale sharks which is a truly mammoth fish that can be found in the southern part of Cebu island and is well worth the time for anyone seeking a unique wildlife experience….be sure to bring an underwater camera for amazing photos of you swimming with the fish!
I have a hard time naming any one location as the best place in Cebu as there are so many truly stunning places to see and visit. Of the many tourists I have guided around Cebu I would say my personal favorite would be snorkeling off the coral reefs just off Mactan Island which is connected by bridge to Cebu island. The crystal clear waters combined with the vivid colors of both the countless fish and coral is one absolutely amazing experience and affordable.
The fact Cebu island has a major airport is a huge plus for those wanting to visit the Philippines without a lot of hassle of trying to get from island to island which can easily eat up a few days of your precious vacation time. With Cebu, you can travel here without much hassle as all major airlines have destinations which land at Mactan Airport. From there it's a simple bridge crossing to enter Cebu Island which any bus or taxi will do for a relatively small fee.
---
#15 Tips From Mimi Gonzales
Site: chasingbleu
Eat! As a foodie and food blogger, I find that the best escapades in Cebu are best paired with the yummy lechon in Carcar or those mouthwatering delicacies in every town you end up to.
If you want a much-needed staycation and relaxation, then Mactan Cebu has the best resorts and beaches to make the most out of your stay.
You can also opt to have an island hopping tour for affordable packages or visit Olango Island and experience serenity. If you're a thrill-seeker and an adventurer, the South has a lot to offer (the North has a lot, too – FYI!). You can try waterfall chasing, trekking, or canyoning.
Because Cebu simply has so much to offer! The city has a myriad of fun activities wherever you go. People are warm and friendly, so you could easily approach them and ask for help if needed. It has the balance between city living and countryside approach. 🙂
---
#16 Tips from Eliza Wasilik
Cebu City is a great base for exploring the island, which honestly has a lot to offer (more on this below). The city itself allows you to experience the local life – you could say it has a unique, modern energy but still manages to keep its traditional touch. So, walk around and breathe for its uniqueness. If shopping, restaurants, and bars are your thing – Cebu City offers that too.
My absolute favorite spot in Cebu City is the Tops Lookout. Upon Busay Hills, even the drive there is already pretty mind-blowing itself. The spot offers the most incredible view of the sun setting over Cebu City and the sea – right in front of you, it's magical.
As if that wasn't enough, there are a few little local restaurants/bars serving delicious cocktails, bbq, beer etc, offering a brilliant atmosphere. If reggae vibes are your thing, then look no further either.
The best way to get there is a motorbike taxi – probably the cheapest and quickest option.
As mentioned above, Cebu City offers a unique taste of the Philippines, it's also located on the Cebu island, of course, offering a great access to the surrounding Phllippinian gems. The island itself has a lot to offer such as the Kawasan Falls, and Moalboal in general with brilliant atmosphere, nice beach, and local vibes. However, you can also take day trips to surrounding islands such as Bohol, Pamilacan or the Bantayan Island. Plus, most importantly the people – they are some of the nicest people I've ever met.
Instagram: instagram.com/elitravelbug
YouTube: https://www.youtube.com/user/elizawasilik
Facebook: https://www.facebook.com/elitravelbug
Website: https://www.elitravelbug.com
---
#17 Tips from Ferna Mae Fernandez
Interact with the locals, learn, know and have a taste of the food that local eat-in Carbon where an interesting market can be found
The downtown area is the best place to visit in the city. It is where a traveler can understand why it has been the oldest city in the country. A walk from the chaotic yet interesting Carbon market, heading to the Magellan's cross, observing strong catholic bond at Basilica de Sto Nino church which is one of the oldest church in the country, understanding how this church tied a close bond to a huge Catholic community in the city. Move forward to the nearest Cathedral church then end the day with a journey in Plaza Independencia with a relaxing place while knowing a bit of history in the place.
Cebu is a diverse city. As the oldest city in the country, a traveler can experience the variety of things from it's modern living to understanding its history. Apart from the places to check on, their authentic food plays a vital role in knowing deeper how one of the largest city in the country offers different kinds of food.
Follow us Ferna!
---
#18 from Withlocals B.V.
Indulge a traditional home-made dinner, where you will experience the real Filipino cuisine: the famous lechon baboy, danggit, humba, sinigang, the famous dessert halo-halo, and much much more!
Bike through the mountains and shores of Cebu and enjoy breathtaking scenery
Or explore the underwater landscape, learning scuba diving with a licensed divemaster
If you feel stressed after the long flight, also a Tai-Chi session with a local that truly masters this art could be an interesting diversion.
For the sea lovers, islands hopping is definitely a must. Visit Mactan's nearby islands: Gilutungan Island, Caohagan/Sulpa Island and Nalusuan Island, and maybe Olanggo Island's fish sanctuary. You can snorkel, swim (with Whale Sharks… Or not!), free dive and much more!
Also, the island has much to offer, especially for those travelers that enjoy adventure: climb the highest peak (Osmena Peak) or head to Kawasan Falls and do some rafting. But always end your adventure with some relaxing time on white sand beaches.
The island has lots to offer also when it comes to its rich past and cultural heritage: pass by the highlights (like the oldest basilica of the island, Sto. Nino) but spice up your tour also with the hidden gems and local spots that only a knowledgeable local host can show you.
Places that you cannot miss in Cebu City!
Cebu City, Mandaue City, Lapu-Lapu City: Shopping, sightseeing and good food combined! Not to mention the vibrant atmosphere, for locals and travelers alike.
Find a cozy nipa hut and sing your heart out with karaoke, while nibbling a halo-halo.
Papa Kit's Lagoon for some exciting water activities.
Kawasan Falls: relaxing swimming into crystal clear waters, enjoy also the possibility to do some canyoning and rafting.
Nestled in the heart of the Philippines, Cebu is considered as one of the best island destinations in Asia-Pacific region offering a vast variety of tours. Cebu City — the oldest city in the Philippines — is the Queen City of the South and the second largest city in the country. It is a gem that keeps on evolving and getting more beautiful. Furthermore, traveling to other neighboring islands is extremely convenient, making it the perfect gateway to other paradisiacal destinations such as Bohol and Negros. It is also the home of the best diving sites, beaches, islands, and historical sites.
Last but not least, Cebuanos are kind, naturally smiling, and generous. So when you find yourself in the Queen City of the South, always wear a smile and expect to have it returned with a bigger, warmer smile 🙂
Follow Withlocals B. V!
---
#19 from Edmar Guquib
Understand the Filipino culture and history from the Cebuano perspective. Visit its old churches and appreciate the city's glorious colonial architecture. Walk down history lane at Calle Colon, the oldest street in the Philippines. Celebrate culture with the Sinulog festival as you track history at Magellan's Cross. Lastly, indulge yourself with the Cebuano people, one of the most beautiful people I must say.
Cebu City is a destination with a unique package. All destinations are the best depending on what you are looking for. Shop at Carbon market and be like a local. You can also try its posh and Moser cafes, restaurants and restobars. If you love history, historical landmarks in the city await you like the Sto Nino Basilica, the Cebu Capitol and the Magellan's Cross.
Cebu is tourist friendly that could offer diverse options for all types of travelers, from cheap to luxurious hotels, local cuisines to fusion dishes and a nightlife you may not forget. It's a transportation hub and very accessible. Its strategic location makes Cebu the best base for travelers enabling you to access other cities with ease.
Follow Edmar Guquib!
---
#20 Tips from Archana Singh
Go waterfall chasing. Relish the local food. Relive the history. Enjoy water sports and beautiful islands.
Historical places: Cebu is very rich when it comes to historical sites from the time of Spanish rule in the Philippines. Places I recommend are Basilica Minore del Santo Niño, Museo Sugbo, Casa Gorordo Museum, Cebu Provincial Detention & Rehabilitation Center, Jumalon Butterfly Sanctuary, University of San Carlos Museum, Tops Lookout, Magellan's Cross and Fort San Pedro.
Diving: Cebu is one of the best scuba diving areas in the Philippines. The top 5 dive areas in Cebu are ideal for both novice and experienced divers, they include Mactan Island, Moalboal, Malapascua Island, Liloan Island and Sumilon Island.
Oslob Whale Shark century swim with the whale sharks in the Oslob Whale Shark century. But be there before 11 am. You can't see them after 11
Waterfalls: Cebu has some of the most stunning waterfalls like Dao Falls, Tumalog Falls, Kawasan Falls, Bugasok Falls and Mantayupan Falls among others
Follow Archana!
---
#21 from Marcela fae
I would strongly recommend to either go Mactan island and spend a fabulous day by the water
I really enjoyed to just stroll around the city to discover nice and curious corners
because it is different than anything you'll find in SEA
Website: fotostrasse
Youtube: WeAreFotostrasse
---
Wrap Up
With the various activities and breathtaking places to visit in Cebu, you cannot help but want to explore more of it. Get to know what other amazing things the province can offer. Although a day is not enough to explore the beauty of the whole Cebu tourist spots, your everyday travel in the province is really worth it. Experience the hospitability of the Cebuanos and the variety of food selections that you can choose. These pretty much can add up to your grand Cebu escapade.
So, if you're looking for a different kind of an exciting adventure and travel, you might want to check out Cebu and have your questions answered as to why experiencing it is something really worth remembering.
And Please dont forget to share this great content! =) and Check Our Hotel Room Accommodation! We are a hotel in cebu city that offers quality service and comfort at an affordable price
Are you looking for a hotel room in Cebu City?
Readers Rating

Rated 5 stars




5

/ 5 (

Reviewers

)

Spectacular
---